SEO 101 Webinar with Charles Kirkland
This webinar is SEO 101.
If you're new to SEO, watch it. It will help you get going in the right direction.
If you're already advanced at SEO, skip past my notes below and see why I asked him to do this webinar.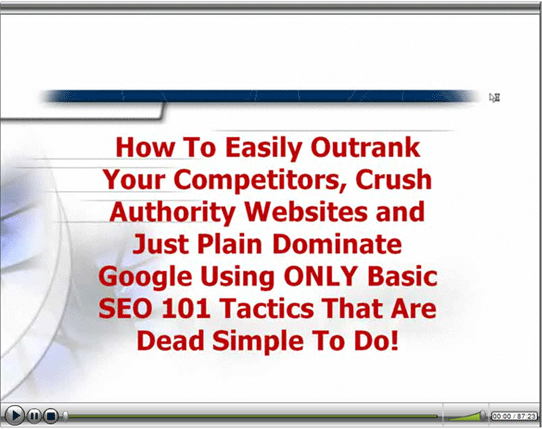 Here are the notes I took during the webinar
PPC and SEO build on each other – when you do both they boost each other
All traffic isn't created equal – target BUYERS for your traffic
Google measures bounceback rate – if your site has a high bounceback rate you're losing SEO
5 Steps to SEO success

Pick the right domain
Get your keywords in your domain
Add buyer keywords into your domain
Write a 500-600 word article
Make the articles targeted to a single keyword
One article per page
Outsource it
Use your main keyword (the keyword in your domain) in your headline
Use the keyword first!
Engage your reader with the headline. Don't be boring.
Use your main keyword in your Title tag
Don't use more than 3 keyword phrases in your title tag
Get keyword targeted backlinks to your site (42:00)
If you're not going to get backlinks to your site, there's no point in building your site.
get 200 good links each month
space them out over the month
randomize it
8 places to get links to your website (51:00)

free directories
paid directories
reciprocal linking
social networking profiles (not so effective)
social bookmarking sites (effective)(use a proxy when setting these up)
blog posts (very effective)
press releases (very effective, but expensive)
articles – (very effective)

Order in which to do this:

a couple of articles
blog posts with original content that link to your site
related sites
social bookmarking

This is the #1 thing I outsource!

Here's why I had Charles do this webinar:
One morning I had an idea about some software we should build based off of some of the tactics my GUYS are using to get links to our sites.
I wrote it all down as a plan for building the software.
Later that day I was talking to Charles and he was explaining to me what the Backlinks Ninja software was.
I was in shock!
Backlinks Ninja does virtually the EXACT SAME THING as the software I had described in my plan that morning!
When I realized this, I asked Charles to do a webinar explaining some of the SEO basics and explaining what this does because it's something my GUYS are already doing…except we're doing it manually.

If you have your guys doing SEO, I highly recommend using Backlinks Ninja to help automate their efforts so they're more efficient and efficeive for you.
Filed under online business, Search Engines by John