Top Google Rankings Using RapidFreeTraffic
In this webinar Marc Lindsay shows how he gets top rankings in Google by building simple websites and then sticking an automated linking system to build backlinks to the site.
He also talked about "removing friction" from your business (and your life).
Things like:
You sit down to work and don't know what to work on
You do keyword research once, don't write it all down, and end up doing it again later
You didn't make a plan so you do it wrong the first time, and have to redo your work
You don't like the work you're doing on your business, so you don't do it at all
Moving from one project to the next to the next to the next to the next…so you never follow through on any of them
Worrying and dealing with the minute details of your business, instead of the big picture
The first half hour or so is a bit slow, but after that people on the webinar gave us GREAT praise about it.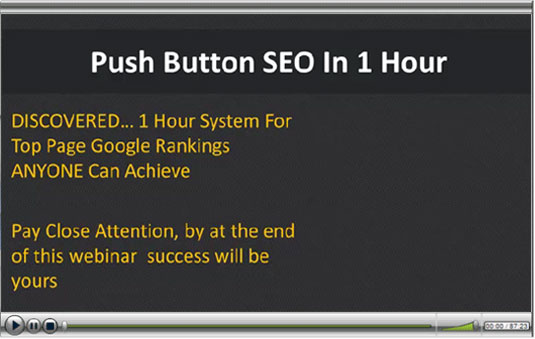 If you want to join Marc's system, here's my affiliate link: My Affiliate Link to Join RapidFreeTraffic.com